Silvia Ferrari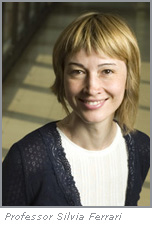 John Brancaccio Professor
Mechanical and Aerospace Engineering
Director
Laboratory for Intelligent Systems and Controls
Contact Information
Sibley School of Mechanical and Aerospace Engineering Cornell University
543 Upson Hall • Ithaca, NY 14853
Phone:  (607) 255-4216
Professor Ferrari's research aims at providing intelligent control systems with a higher degree of mathematical structure to guide their application and improve reliability. Decision-making processes are automated based on concepts drawn from control theory and the life sciences. Recent efforts have focused on optimal control problems in computational geometry and multiscale dynamical systems aimed at improving the effectiveness of mobile sensor networks, such as, acoustic and demining sensors installed on underwater vehicles and ground robots.  New methods for neural network training are also being developed to retain long-term procedural memories, solving partial differential equations online, and training in-vitro and in-silico spiking neural networks to solve complex sensorimotor learning problems.
Principal research efforts
Approximate dynamic programming
Learning in neural and Bayesian networks
Sensor path planning
Integrated surveillance systems
Reconfigurable control of aircraft
Intelligent systems for criminal profiling
Education
Princeton University, Princeton, NJ
Ph.D., Mechanical and Aerospace Engineering, November 2002
M.A., Mechanical and Aerospace Engineering, November 1999
Embry-Riddle Aeronautical University, Daytona Beach, FL
B.S., Aerospace Engineering, summa cum laude, May 1997
Recent Honors and Awards
Presidential Early Career Award for Scientists and Engineers (PECASE), 2006
International Crime Analysis Association Research Award, 2005
National Science Foundation CAREER Award, 2005
Office of Naval Research Young Investigator Award, 2004
Publications
Click here to access Prof. Ferrari's publications.
Courses